HOME>Kushiro Art Museum, Hokkaido

The Kushiro Art Museum was built on the Kushiro River.
which flows under the Nusamai Bridge in the downtown area of Kushiro City.
The building itself has two symbolic expressions which represent the characteristic spaciousness and freedom experienced in the Kushiro region.
The roof is one long panorama supported by wide walls of glass facing the river. The brick walls on the street side were built from historical brick preserved from the old warehouses that were once the hub of Kushiro Port.
These contrasting designs symbolize the ambition of the museum: to bridge the past and the future of artistic culture.
The first floor of the building houses the lobby and the main functional facilities, and the second floor houses the public reading area and outside terrace.
The glass walls allow plenty of sunshine in, especially in the autumn and winter, and the terraces facilitate a continuation of space between the inside and outside environments. The design of the building gives one the impression that the museum is open to the community and wishes to harmonize with its environment.
4-1-5 Saiwai-cho,Kushiro-shi,Hokkaido 085-0017,Japan
TEL 0154-23-2381 FAX 0154-23-2386

Lobby
Exhibition room
←
Arts hall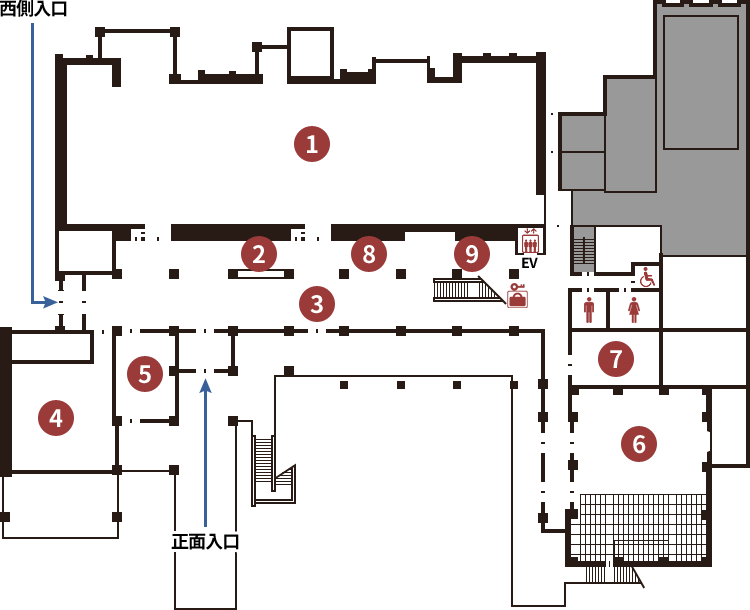 Exhibition room
Ticket office & Information
Lobby
Arts space
Workshop room
Arts hall
Workshop room
Shop
Nursing space
Packing room
Storage
Loading dock
Security staff office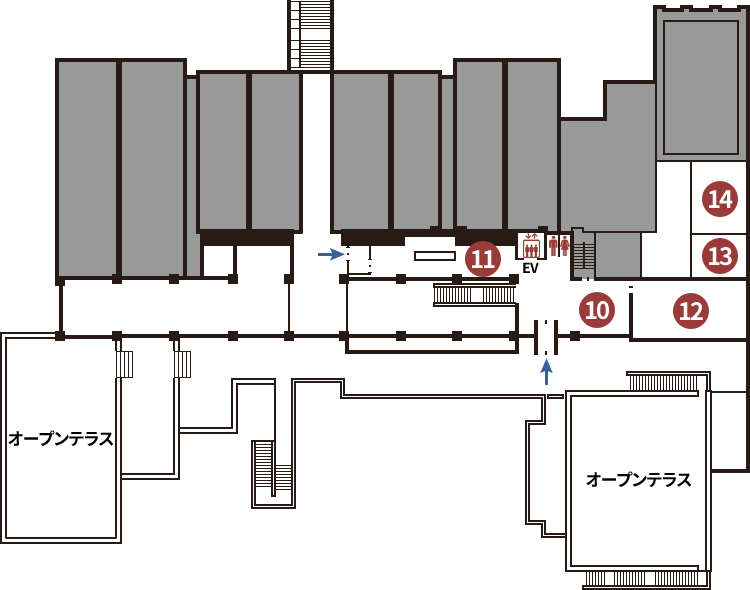 Library
Coffee shop
Museum office
Director's office
Conference office
Stack room
Exhibition room(entrance)
Arts space
Ticket office & Information
Workshop room
Coffee shop

Hours/9:30a.m to 5:00p.m.
Closed/Mondays,Dec..29-Jan.3,etc.
Admission fee(yen)
(the price with taxes included)
Category
Individual
Group:10people or more
Exhibition of collection
Adults
460yen
360yen
High school
university students
200yen
150yen
Special exhibitions
一人につき3,520円以内で知事が定める額
Admission fee for set for each exhibition
※

Admission fee for the handicapped, senior citizens over 64, etc.
Rent for the room(yen)
(the price with taxes included)
Category
Rent fee
9a.m.-noon
1p.m.-5p.m.
6p.m.-9p.m.
9a.m.-9p.m.
Exhibition room
-
-
-
68,940yen
9a.m.-5p.m.
Arts hall
9,210yen
11,510yen
9,210yen
23,580yen
Arts space
8,020yen
10,330yen
8,020yen
20,830yen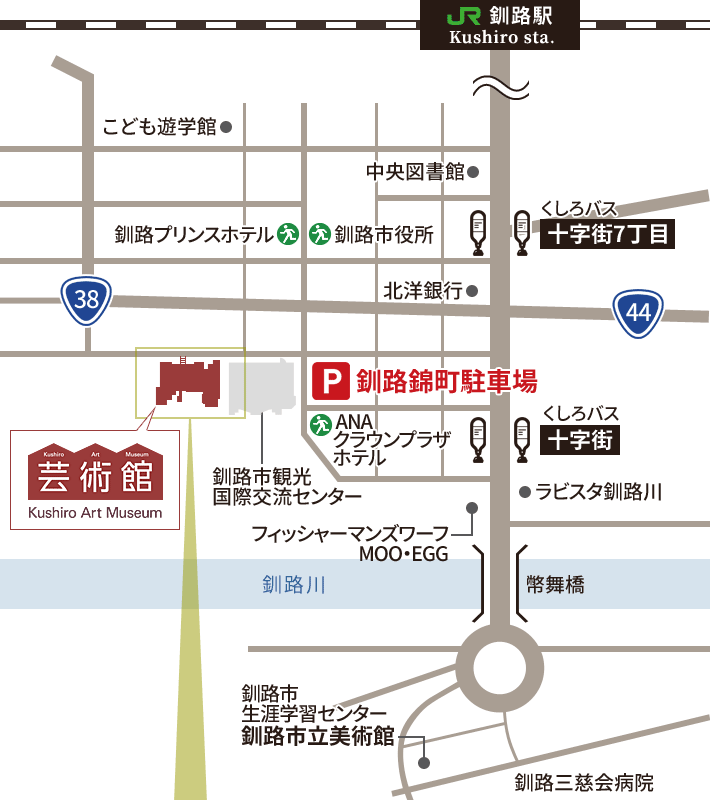 15 minutes on foot from JR Kushiro Station.